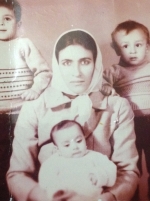 Place of Birth:
Tal el Zaatar Camp
Date of Disappearance:
1976
Age at the time of Disappearance:
8
Location of the Disappearance:
Tal el Zaatar Camp, Maten, Lebanon
Description of the missing person
Adnan was the eldest son in the Al Ahmad family. He was known for his kind and polite personality. He aspired to succeed at his school in Tall el Zaatar camp and to improve little by little. He happily welcomed all visitors. His hobbies included sports and playing football.
Circumstances of the Disappearance
When a passage out of Tall el Zaatar camp opened up, Adnan's mother Fatima and her three children attempted to escape. However, on their way out, their neighbor stopped them so that she could pick up her father, and when the neighbor returned, Fatima and her family had disappeared.