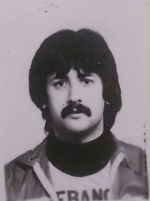 First Name:
Abed el Hafiz
Date of Disappearance:
1982
Age at the time of Disappearance:
25
Location of the Disappearance:
Saida neighbourhood, Saidon, Lebanon
Last Seen Location:
Lebanon
Description of the missing person
Abed el Hafiz was a handsome young man. He was fun and generous and he loved life. Abed el Hafiz loved helping people. He had four brother: Amer, Samer, Ali, Wassim and two sisters: Mirvate and Sawsan. Abed el Hafiz loved spending time studying and he focused on improving his career. He planned on pursuing his studied abroad.
Circumstances of the Disappearance
Abed el Hafiz was sitting in front of his house. While he was drinking coffee, armed men stopped by and asked for his brother Ali. Abed el Hafiz refused to give them his brother unless they tell him the name of the person behind the plan. Due to that answer, the kidnappers asked Abed el Hafiz to come with them too. They eventually took him and his brother.